Wyoming Senator Sets Sights on Senate Energy Committee

Wyoming Senator John Barrasso announced his intent to become lead Republican on the Senate Energy and Natural Resources Committee for the 117th Congress next year, setting himself up for a potential leadership role if Republicans maintain control of the U.S. Senate this winter.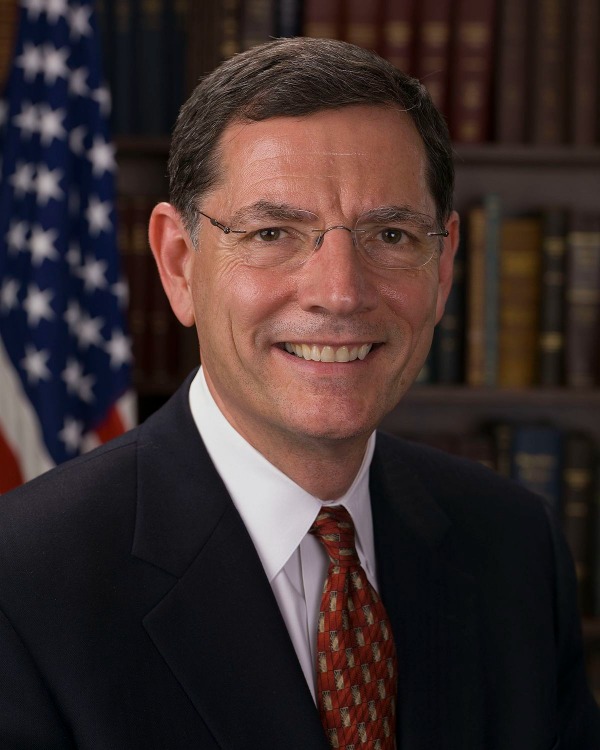 John Barrasso


Lisa Murkowski, R-Alaska, currently chairs the committee.

If Barrasso — a rank-and-file member of that committee — ultimately rises to a leadership position on the committee, it will give Wyoming an outsized voice in national policy decisions governing some of the state's most critical natural resources amid a sustained downturn for resources like natural gas and coal — a fact he addressed in a statement announcing the decision.

"My state is home to some of the greatest natural resource wonders in the world," Barrasso said. "Our abundant energy supplies help power the nation. Our national parks and other special public lands are prized by locals and visited by millions from around the globe. The enjoyment, protection, and utilization of these special places and resources are at the very heart of our economy and western tradition."

A spokesman for Barrasso declined to elaborate on a potential agenda should the senator ascend to the chairmanship, saying that specific priorities for his time as chair would likely come into clearer focus over the coming two months.

As chairman of the Committee on the Environment and Public Works, Barrasso made energy a priority of the group's work in the 116th Congress, sponsoring legislation to spur the development of nuclear energy infrastructure around the country and to incentivize the development of carbon capture technologies: a key element in Gov. Mark Gordon's strategy to help save Wyoming's coal industry.
To continue reading, click here to view the full article on CoalZoom.com.
CoalZoom.com - Your Foremost Source for Coal News
Atlantic Coking Coal: China Demand Keeps Prices Steady
US coking coal prices held firm today, maintaining the gains made over the past fortnight on the back of strong Chinese demand and supply tightness in the high-volatile segment.

The Argus daily fob Hampton Roads assessment for low-volatile coking coal is unchanged at $118.50/t today, having risen by $7.50/t across this week, buoyed by the strength of Chinese demand pushing the China cfr above $160/t this week. The high-volatile A and high-volatile B assessments were similarly flat at $119/t fob Hampton Roads and $105/t fob Hampton Roads, respectively, supported by low availability as further European enquiries for first-quarter spot shipments emerge.

A Panamax cargo of Canadian Raven coal for December loading sold to a Chinese buyer at $162-163/t cfr China, about $15/t higher than a similar cargo traded earlier this month. Another cargo of Blue Creek #7 was sold at about $164/t cfr China, $9/t higher than a similar cargo heard traded last week.

European mills ramping up steel production have been making the most of offers for Australian premium low-volatile coals that have stabilised this week at around $99/t, loading as far as in the first quarter. A Turkish mill issued a requirement today for two Panamax cargoes of low-volatile coals to be delivered in the first quarter of next year. Australian miners are likely to be in a more competitive position to secure these requirements after the US low-volatile coking coal price hit a record premium of $20/t to Australian premium hard coking coal yesterday.
To continue reading, click here to view the full article on CoalZoom.com.
CoalZoom.com - Your Foremost Source for Coal News.
US Low-Vol Coal Makes Record Gains Over Australia

US low-volatile coking coal hit a record premium to Australian premium hard coking coal yesterday. Argus assessed the fob Australia price at $98.50/t yesterday, putting the US low-volatile price at a $20/t premium.

Australian premium hard coking coal — with a lower sulphur content and higher coke strength after reaction (CSR) — is typically valued higher than the US material. The latter's premium has risen sharply from 55¢/t on 9 November.
Low-vol coal, fob Australia, fob Hampton Roads, cfr China $/t

A surge in Chinese demand for alternatives to Australian coking coal, following import curbs and limited Atlantic supply as a result of production cuts and Covid-19 disruptions earlier this year, meant Chinese buyers this week started paying above $160/t cfr China for certain US and Canadian low-volatile coals. Restrictions on Australian imports have resulted in the Australian fob price falling by $37/t since the start of October and diverging from the China cfr price. Nonetheless, today's China cfr price of $161.75/t remains some way below the 2020 high of $176/t in March, when Chinese demand returned after the Covid-19 lockdown. The higher China cfr price — based on recent US and Canadian trades — also reflects the higher freight cost those origins, estimated at $30-35/t, against just $10-11/t for Australia-China trips.

While market participants largely see the spike in ex-Australian coking coal prices as a short-term trend stemming from political tensions between China and Australia, it could extend beyond earlier expectations that business will return to normal by the first quarter. Chinese importers are braced for disruptions past the lunar new year in mid-February.
To continue reading, click here to view the full article on CoalZoom.com.
CoalZoom.com - Your Foremost Source for Coal News.
MSHA Proposes Improvements to Support the Development and Deployment of Advanced Safety and Health Technologies

The National Mining Association (NMA) today applauded revisions proposed by the Mine Safety and Health Administration (MSHA) to update its 30 CFR Part 18 standards governing permissibility testing for electric motor-driven mine equipment and accessories.

"The industry has long advocated for updates to the standards, which limit companies' ability to use the latest available technologies to create safer mine environments," said Rich Nolan, NMA president and CEO. "Current standards have resulted in a backlog of superior technologies awaiting MSHA approvals, even as those technologies are being used successfully in mines elsewhere around the world or by other occupations in the U.S. The proposed updates will allow us to provide the best available protection for miners through a more efficient and effective process. Put simply, this translates into people being safer sooner."

MSHA proposes to incorporate by reference 14 "voluntary consensus standards" (VCS) developed by the American National Standards Institute, the International Society of Automation, UL LLC, and the International Electrotechnical Commission. The agency will accept tests from these organizations in lieu of MSHA's standards. The VCS contain general and specific construction and testing requirements for equipment used in explosive gas atmospheres, explosive dust atmospheres or hazardous locations.
To continue reading, click here to view the full article on CoalZoom.com.
CoalZoom.com - Your Foremost Source for Coal News.
Pennsylvania is Flirting with Self-Imposed Energy Disaster

Americans can't afford to pay more for electricity, especially with millions out of work in the midst of pandemic-induced economic upheaval. Yet, higher electricity costs and economic turmoil are coming if lawmakers continue to pursue policies that mandate an aggressive pivot away from existing baseload power to intermittent, more expensive alternatives.

Pennsylvania is now on the front lines of this policy battle. Governor Tom Wolf is trying to circumvent the Pennsylvania General Assembly and push the commonwealth into the 10-state Regional Greenhouse Gas Initiative (RGGI). The move promises little in the way of benefits but does guarantee extraordinary costs.
By the governor's own estimates, joining the RGGI would impose a $2.36 billion tax on fossil fuel power plants in Pennsylvania over the next 10 years. That $2.36 billion RGGI tax will have a cascading effect on communities across the state. Thousands of Pennsylvanians will lose their jobs, and electricity consumers – especially low-income and fixed-income households – will likely face significantly higher bills that they simply can't afford.

How much more? Virginia, which recently moved to joined RGGI, estimates that doing so will impose as much as $6 billion more in electricity costs on its ratepayers over the next 10 years. That estimate could very well prove to be too low.

States currently in the RGGI, like New York, Connecticut and Massachusetts, boast some of the highest electricity rates in the country. In fact, on average, electricity rates in RGGI states are 50 percent more than they are in Pennsylvania.
To continue reading, click here to view the full article on CoalZoom.com.
CoalZoom.com - Your Foremost Source for Coal News.