A team led by NETL researchers recently launched airborne technology at a commercial-scale carbon dioxide (CO2) geologic storage site in Mississippi to complete a first-of-its-kind electromagnetic survey and collect data needed to monitor greenhouse gas sequestered in the subsurface.

Deep underground storage of CO2 is a major component in the nation's efforts to achieve a 100% carbon emission-free electricity sector by 2035 and a net-zero carbon economy by 2050 and prevent the disastrous impact of climate change.

However, large-scale carbon sequestration needs to be closely monitored to ensure the greenhouse gas does not escape the protective layer of cap rock and leak to the surface or contaminate underground aquifers that supply drinking water.

To develop an effective monitoring tool, the NETL-led team tested a superconducting quantum interference device (SQUID) magnetometer at the Kemper Carbon Storage Assurance Facility Enterprise (CarbonSAFE) site. The blimp-shaped device, which has been used by industry to find diamonds and other valuable minerals in the subsurface, was tethered to a helicopter and flown over the mostly forested area in east-central Mississippi (check out the SQUID magnetometer liftoff video here).

The SQUID magnetometer can detect magnetic fields of extremely low magnitude. Detection and analysis of this measured geophysical data can help researchers identify geological features and document changes when CO2 is injected.
Wyoming's Two Largest Coal Firms Report Solid Earnings
This year is off to a solid start for both of the major companies mining coal in Wyoming.

Arch Resources and Peabody Energy announced net first-quarter income of $198.1 million and $268.5 million, respectively, during separate calls with investors at the end of April.
Arch owns the Black Thunder and Coal Creek mines. Peabody owns the North Antelope Rochelle, Caballo and Rawhide mines.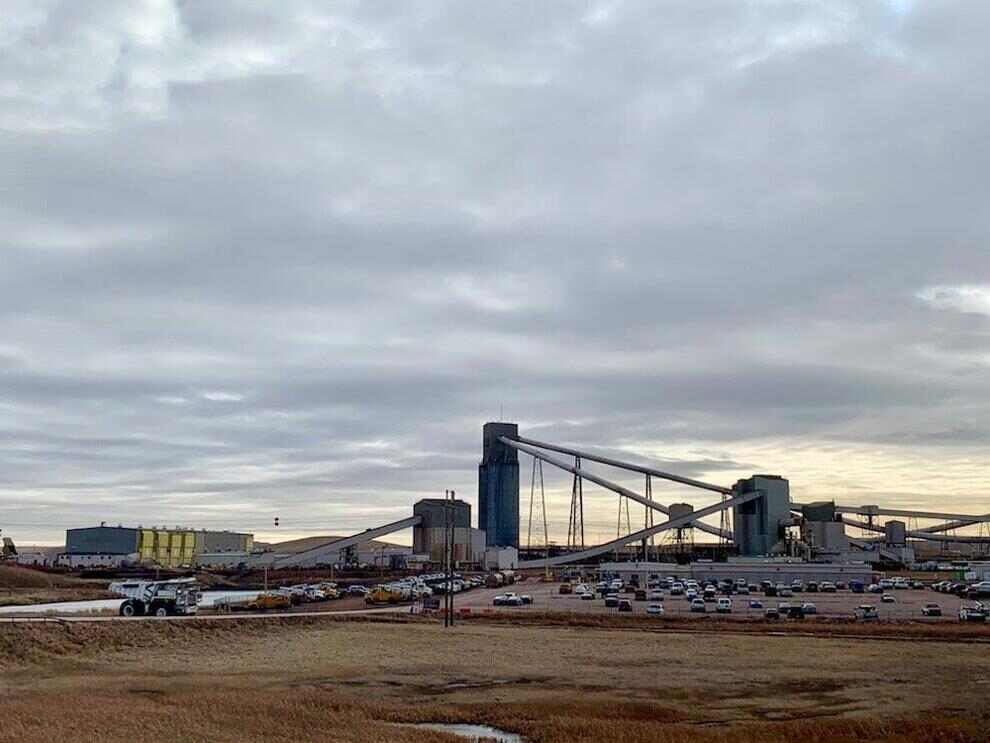 Arch Coal's Black Thunder mine in southern Campbell County commenced operations in 1977. Arch Coal shed $5 billion in debt before emerging from bankruptcy in 2016, making it one of the most financially resilient mine operators in Wyoming's Powder River Basin.
Photo: Dustin Bleizeffer, WyoFile

North Antelope Rochelle is the most productive coal mine in the country, while Black Thunder ranks second, Caballo is fifth and Rawhide comes in at 11th, according to federal data. In total, nine of the top 15 are located in the Powder River Basin. (Coal Creek, which did not make the list, is in the process of being permanently closed.)
The companies' financial performance last quarter far outpaced the early years of the pandemic.
It paled in comparison to the final months of last year, however, when Arch reported net income of $470.5 million and Peabody reported net income of $632 million.
To continue reading, click here to view the full article on CoalZoom.com.
CoalZoom.com - Your Foremost Source for Coal News.

The Decline In Coal Appears To Have Been Exaggerated
Despite big promises of a green transition and the creation of ambitious climate pledges, some countries are continuing to support the development of new coal mines. The U.K. and Australia both have coal facility plans that could go against their climate pledges, while there is no sign of slowing down China's coal industry. So, just what does this mean for the green transition of these countries and globally?

In December 2022, the U.K. announced plans to build its first new coal mine in three decades. The $204 million project will be constructed in Whitehaven in Cumbria and is expected to produce 2.8 million tonnes of coking coal annually, as well as create 500 jobs. The plan is to export most of the coal produced, as the U.K. expects to increase its renewable energy capacity to stop the need for domestic coal use.

Many U.K. steelmakers have already stated that they will not be using coal from the development. And several European steel producers are also transitioning away from coal in response to mounting pressure from governments to decarbonize operations. Companies working in the heavy industry sector are now looking to renewable energy to power their facilities, where possible.

The mine is expected to produce 400,000 tonnes of greenhouse gas emissions a year, equivalent to around 200,000 car emissions. This will contribute heavily to the U.K.'s carbon emissions at a time when it is expected to shift away from carbon-intensive energy production in support of an accelerated green transition. Although the government has stated that the development is still possible within the scope of the U.K.'s climate legislation, with no doubt that it can achieve the net-zero scenario by 2050 following the closing of all coal operations by 2049. However, an analysis published in January suggested that this view is overly optimistic and that the coal project will likely break U.K. climate pledges.
To continue reading, click here to view the full article on CoalZoom.com.
CoalZoom.com - Your Foremost Source for Coal News.
The Biden Administration's Arithmetic Problem
The Biden administration is building its entire energy agenda on a foundation of speed. Or as some members of the Biden energy team like to say, "deploy, deploy, deploy." Their mandate is to build wind turbines, solar arrays, site transmission lines and reshore supply chains overnight while the U.S. (EPA) Environmental Protection Agency simultaneously tears down existing sources of power. Speed is the key to threading this needle – the lynchpin to filling the gaps created by EPA's regulatory agenda – but what happens when instead of moving faster, deployment slows down?

There are signs that's exactly what's happening. Deployment of new generating capacity and construction of essential infrastructure is slowing down in some places, and where it is speeding up, it still doesn't appear to be moving fast enough.
Rapidly retiring baseload generating capacity – accelerated by EPA's suite of rulemakings and a range of state mandates – combined with rising electricity demand from electrification, is beginning to collide with a stark reality: renewable energy deployment and its enabling infrastructure aren't materializing nearly fast enough. Under the pretense of cleaning up and fixing the grid, the administration is breaking it.
The barriers to deployment for wind and solar power, and the required supporting transmission infrastructure, are stubbornly familiar. Supply chain challenges, higher interest rates, public acceptance – or the lack of it – and permitting hurdles are all weighing on a sector that the administration says must fly.
To continue reading, click here to view the full article on CoalZoom.com.
CoalZoom.com - Your Foremost Source for Coal News.