Underground Coal Mining Operation Expanding

An expansion to Gibson County, Indiana's underground coal mining operation has been approved.
More than 3,000-acres of so-called "shadow area" near Mount Carmel has been approved by the Indiana Department of Natural Resources for an expansion to Gibson County Coal's underground mining operation.
That means underground coal mining operations in Gibson County will eventually stretch across the Wabash River into Wabash County, Illinois.
"Personally I think it is a good idea because it's more job opportunities," Gibson County resident Andre Crowe said. "A lot of people work at the coal mine and they survive from the coal. I think it's a good opportunity because it's an opportunity for people to have more jobs and to be able to take care of their family."

About four-million-tons of coal was produced by Gibson County Coal in 2016. Gibson County Commissioners say they are happy to hear about the expansion after layoffs a while ago.
To continue reading, click here to view the full article on CoalZoom.com.
US Coal Train Loadings Climb to Three-Month High
US coal train loadings increased significantly week on week in the Appalachian basins to lift nationwide totals to a three-month high.

Data filed by the four major US railroads -- CSX, Union Pacific, BSNF and Norfolk Southern -- for the week ended December 1 showed US coal loadings averaged 104.7 trains/d, up from 95.5 trains/d in the previous week, which was shortened due to the US Thanksgiving holiday.
Nationwide totals were last higher in the week ended September 1 at 111.8 trains/d.
Central Appalachia coal loading volumes increased to 17.8 trains/d from 12.3 trains/d the previous week, and Northern Appalachian volumes climbed to 11.8 trains/d from 7.8 trains/d.
To continue reading, click here to view the full article on CoalZoom.com.
Wyoming to Cooperate on Coal With Other States, Province

Western coal states and a Canadian province have signed an agreement to collaborate on coal research as part of an effort to help the struggling industry adapt to pressures over climate change and a declining market.
Wyoming, Montana, North Dakota and Saskatchewan each have a history of involvement in technologies that could reduce greenhouse gases from burning coal to produce power.
The Casper Star Tribune reports the states and province recently signed a memorandum of understanding to share information and potentially combine forces on research projects that could put federal dollars to work.
To continue reading, click here to view the full article on CoalZoom.com.
Trump Ally Bob Murray: "We Must" Have Early FERC Decision on Coal Subsidies
Bob Murray, the CEO of coal giant Murray Energy, said Friday he was "disappointed" with the Federal Energy Regulatory Commission's move to delay a request to subsidize coal and nuclear plants, and a major utility that he supplies warned that some power plants may have to shut down soon as a result of the delay.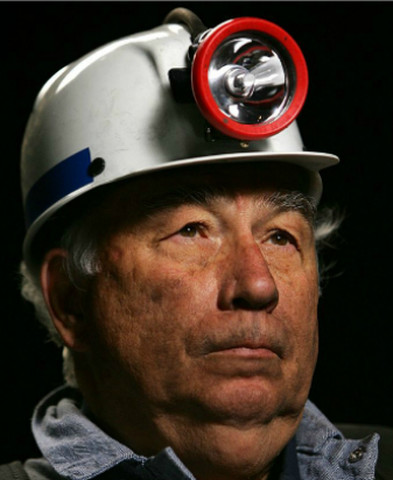 Bob Murray
"We must have the plan ordered by Perry enacted by FERC," Murray told the Washington Examiner in an interview. "We must have it. The 30-day delay is disappointing. I am concerned. It needs immediate action. This would be the most significant action by the federal government in my 60 years in the electric power and coal industries."
First Energy Corp., a utility and customer of Murray's, warned Friday that FERC's delay could force more coal and nuclear plants to close.
Jennifer Young, a spokeswoman for FirstEnergy, said the company is reviewing whether to close or sell power plants, a decision that could be impacted on how FERC rules on Perry's proposal.
To continue reading, click here to view the full article on CoalZoom.com.
Here's How Alliance Resource Partners, L.P. Crushed It in 2017

Owning coal miner Alliance Resource Partners, L.P. (NASDAQ:ARLP) has not been easy this year. There's a combination of factors for that, including continued pressure on the U.S. thermal coal industry and a unit price that has fallen around 20%. But underneath that, Alliance has continued to show why it's one of the best coal miners in the business. In fact, in some ways, it's been crushing it for unitholders in 2017.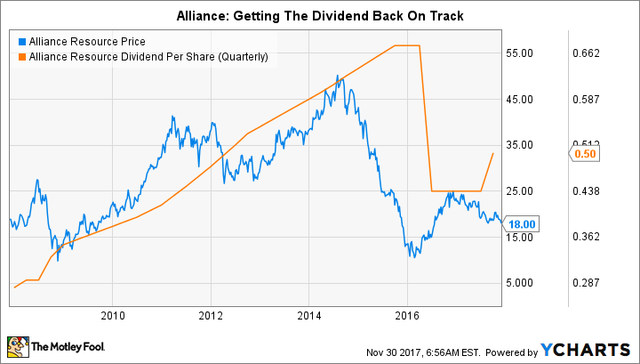 The Business
Alliance primarily sells thermal coal mined out of the Illinois Basin coal region. That basin, located in what the U.S. Energy Information Administration (EIA) calls the interior region, is expected to see its share of the coal market increase from 20% to 26% by 2040. Even in a worst-case scenario, production is expected to remain stable over that span while other regions see continued declines.
The EIA could be wrong, but the point is that coal isn't nearly as dead as the headlines would have you believe. And the region in which Alliance operates is relatively well situated. That gives a nice backdrop to the nearly 6% year-over-year sales volume increase Alliance saw through the first nine months of 2017. For the full year, the partnership's low-end estimate for fourth-quarter coal sales will lead to a full-year sales volume increase of around 4%. Since all of Alliance's coal is under contract through the end of the year, it should be pretty easy to hit that target.
On the cost side of the equation, Alliance was able to trim expenses by a little over 5% year over year through the first nine months of 2017. Those cost savings were achieved even though sales volumes were higher. Clearly, Alliance is doing a good job on the operations front.
To continue reading, click here to view the full article on CoalZoom.com.