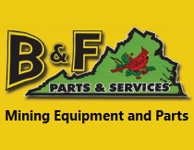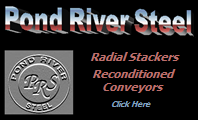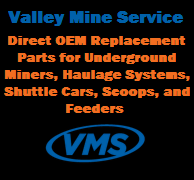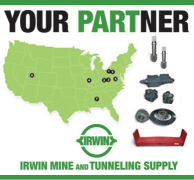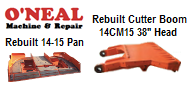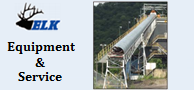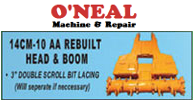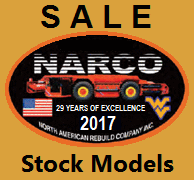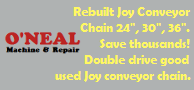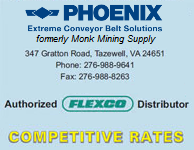 Welcome to Coal Miner Exchange

Weekly Email Blasts
Monday/Friday - CoalZoom and Wednesday - Coal Miner Exchange
Virginia Coal and Energy Alliance: Industry Leaders Optimistic About Coal Rebound
The coal industry decline has cost thousands their jobs in our region. Now recent deregulation and technology advances could mean a turn-around for coal.
Coal industry leaders met in Kingsport, Tennessee on Monday for the annual 'Virginia Coal and Energy Alliance Conference'. The theme of the conference is launching a new era of coal, and many in the industry explained how using new technology to make coal cleaner is the way forward.
"We can coexist with one another, we can complement one another, we can help one another," said Jeff Taylor, Chairman of the Virginia Coal and Energy Alliance.
Since 2011, coal jobs have shrunk by more than 40%, and last year the United States produced the least amount of coal in the past thirty years.
"This time last year we were wondering which coal companies were going to file bankruptcy," said Taylor.
Now the industry is trying to rebound.
President Trump has recently deregulated a host of coal restrictions, like stream protection laws that were considered over-burdensome.
EPA Administrator Meets With Congressional Caucus
EPA Administrator Pruitt, left, speaks with Members of the Congressional Coal Caucus in the U.S. Capitol
EPA Administrator Scott Pruitt met with the Congressional Coal Caucus on Monday and carried with him the message from President Donald Trump that the war on coal is over. Additionally, Administrator Pruitt highlighted many of the changes EPA has made from the last administration including:
On March 28, President Donald Trump visited EPA headquarters where he signed the Executive Order on Energy Independence, which calls for a review of the Clean Power Plan. The event signaled a commitment to the rule of law, cooperative federalism, and sound scientific rulemaking at EPA.
Following the signing of the Executive Order, Administrator Pruitt sent a letter informing governors that EPA does not expect the states to dedicate resources to complying with the Clean Power Plan rule, a rule that has been stayed by the Supreme Court of the United States.
On April 13, Administrator Pruitt toured the Harvey Mine in Sycamore, Pennsylvania, the largest underground mine in the United States. Administrator Pruitt went underground to tour the mine and met with minors to learn firsthand about their work.
On the same day he visited the Harvey Mine, EPA announced the agency's decision to review the final rule that amends the effluent limitations guidelines and standards for the steam electric power generating category under the Clean Water Act (ELG Rule), which has been estimated to cost $480 million per year and has a reported average cost of $1.2 billion per year during the first five years of compliance.
Shortly thereafter, on April 20, Administrator Pruitt visited the Thomas Hill Energy Center in Missouri, a rural electric cooperative that supplies energy to a vast swath of Missouri, Arkansas and Oklahoma.
These actions and others by the Trump Administration and the new EPA provide coal-producing states more certainty and assurance that the United States will rely on a diversified portfolio of energy production to achieve greater energy independence and grow America's economy.
Clean Coal: An American Alternative Energy Source
Energy Secretary Rick Perry recently dedicated the world's largest clean-coal power plant, the WA Parish Generating Station – known as Petra Nova. Located not far from Houston, Petra Nova is the first of several American clean-coal operations scheduled to open during fiscal year 2017.
Some of these clean-coal facilities, such as Petra Nova, are upgrades to existing coal-fired plants. Others, such as the Kemper County, Miss., plant, will be new operations. While those power plants have been under development for some time, President Donald Trump and Congress have already taken a number of decisive actions to roll back Obama-era executive orders and regulations.
Under President Barack Obama, two federal agencies were at loggerheads over clean coal. The Department of Energy helped fund demonstration projects, including Petra Nova, even as the Environmental Protection Agency worked hard to ban the mining and use of coal. Of the two, the EPA clearly had President Obama's ear, reflected by anti-coal executive orders which gutted the American coal industry.
Obama's actions reflected an ingrained bias, leaving many well-paid union workers unemployed and often unemployable. The Trump administration has no such bias. Democratic Senator Joe Manchin (D-W.Va.) praised the president for overturning Obama's "Clean Power Plan," which was largely responsible for that massive loss of good-paying coal-industry jobs. Senator Shelley Moore Capito (R-W.Va.), cited another Trump rollback that will "protect the one-third of coal jobs placed at risk by the misguided Stream Protection Rule."
In an early executive order, the president reopened the coal market in America, putting miners back to work while paving the way for restarting mothballed coal-fired facilities. He then signed a law rescinding the Obama administration's "Stream Protection Rule," an EPA regulation that subjected mining to impossible-to-achieve standards.
Trump's actions have had immediate impacts on jobs and productivity. In the North Fork Valley of Colorado, as many as two coal trains per day are departing for coal-hungry markets, a seven-fold increase in productivity from when Colorado coal production hit record lows just last year — down 67 percent. While not all of this rebound can be directly attributed to President Trump, his actions have already paid dividends in virtually all coal states.
Wind and Solar Energy Have Failed to Perform as Advertised
Wind and solar disappointing
The bad news for what we have been told are superior energy sources keeps piling up. Even European countries, with their strong preference for things that don't work, like socialist government, have begun pulling back from wind energy as a major energy source, and solar energy isn't doing so well, either.
German-owned solar panel producer SolarWorld has filed for what it termed "insolvency" in a European court, saying it was "over-indebted" and did not have a "positive going concern prognosis." Translated into the plain language of American business, SolarWorld is filing for bankruptcy.
In America bankruptcy does not necessarily mean the end for a company, so perhaps "insolvency" is only a temporary side trip, but it certainly falls well below the description of a successful company.
Here at home, that raises concerns over the company's U.S. division, SolarWorld America, Inc., which operates a $600 million panel plant in Hillsboro, Oregon. Democrat Gov. Ted Kulongoski praised the plant as an economic development beacon "in the Silicon forest" during a ribbon-cutting ceremony, also attended by Democrats Sen. Ron Wyden and then-Rep. David Wu.
The facility was purchased in 2007 from Japan's Komatsu Group, and by 2012 had collected $57 million in Business Energy Tax Credits from the state. Reports say it now has received $100 million in tax breaks just from state and local government. It also benefitted from a $4 million grant from Barack Obama's Department of Energy.
SolarWorld notes, however, that despite its problems in Germany, the Hillsboro plant that employs 800 people continues to operate. The question now is how long before the Oregon plant, which its previous owner wanted rid of, joins the infamous Solyndra and Solar Trust green energy fiascos, that cost U.S. taxpayers billions of dollars?
Coal and Quarry Miner Exchange Now Firmly Established

As a Solid Partner of CoalZoom
JH Fletcher Booth at MINExpo
It has now been several months since the monthly publication Coal and Quarry Miner Exchange was acquired by the publisher, Coal News, Inc. and the new website has been online since last October. Coal and Quarry Miner Exchange has for thirty years been the go-to resource that operators and purchasing agents use to find the equipment and services that they need and the digital edition continues that tradition.
Tom Foster, the recent former President of Coal and Quarry Miner Exchange, who is now a consultant to the company said, "The new digital version produced by Coal News is already allowing advertisers to get their message across with greater speed and more effectiveness."
"President Trump is showing his support for the coal industry and at last there are some positive signs in U.S. coal markets with considerable optimism," added Bill Reid, president Coal News, Inc. "We are thrilled to be working with Coal and Quarry Miner Exchange advertisers and to provide them with a first class service."
The last printed issue of Coal and Quarry Miner Exchange was the October 2016 issue. The digital issue is available at
www.CoalMinerExchange.com
. Readers are encouraged to sign up for the FREE newsletter. CoalZoom.com e-blasts are on Mondays and Fridays and CoalMinerExchange.com e-blasts are on Wednesdays.
Coal News, Inc., headquartered in Chesapeake, VA., founded and produced the industry's foremost publication Coal News for ten years 2004-2014. As a further service to the coal industry, CoalZoom.com was launched in 2008 and has established itself as coal's foremost digital newsletter.
Major Coal Companies